Hallo!
I have only posted one book review so far in 2018.
In february. S
o in other words, long time ago.
I
t's about time to share another book review. Hope you like it! :-)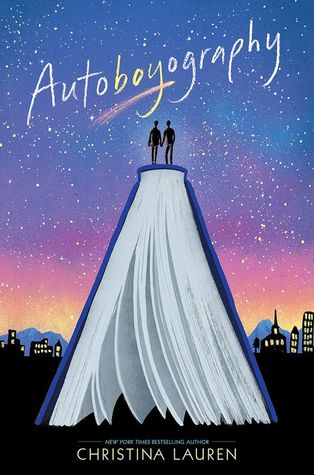 Published September 12th 2017 by Simon & Schuster Books for Young Readers.
My rating: 4 stars.
Autoboyograph
y

was the first book I read this year.
I was a bit unsure if I would like it, so I borrowed it from the local library.
I really loved this book, among the LGBT books I've read, this is one of my favorites.
One of the reasons I was a little afraid not to like it was the religion part of the story.
I don't have anything against religions, but when humanbeing use their believs to judge other and make their own rules for how the society should be, it makes me angry. All people have the right to be themself and if God really exsisted ( I belive so!), he would love us all.
In this book we meet Tanner Scott, a bi-sexual boy who had to move back in the closet when his family move
from Palo Alto in California to Provo in Utah. Even though Tanner don't like it he understand that his parents want to keep him safe. In Provo the people are living in a very conservative and judgmental environment, and almost everyone is the part of the Mormon comunity. He already has the support of his family and feels comfortable with himself, so keeping his sexuality low-key until he's going to collage, does not seem like a big problem.

Well, that was before he met Sabastian Brother, the mentor in his writing class.
Sabastian Brother is member of the
Church of Latter Day Saints, and their absolute unbreakable law of the church, it's that the members has to be straight. When Tanner see Sebastian for the first time, he feel deeply in love with him

and it does not take long before Sebastian shows feelings back

. The members of the LDS can

be attracted to a member of the same sex, but they are not allowed to talk about it, or act on it in any way.

Tanner's mother left the LDS Church after her own sister was shunned after being homosexual.

It's when the relationship between Tanner and Sebastian gets serious that the problems arise.

Tanner must not only keep his own sexuality hidden, but he must also help Sebastian to hide his.
I loved the relationship between Tanner and Sebastian.
Unfortunately, there where some things with the story that I didn't like.
Since I don't want to share any spoilers, I just want to say that there are two or three things that I did not fully agree with in this book. But apart from that, it was a very good book. I would definitely recommend it.