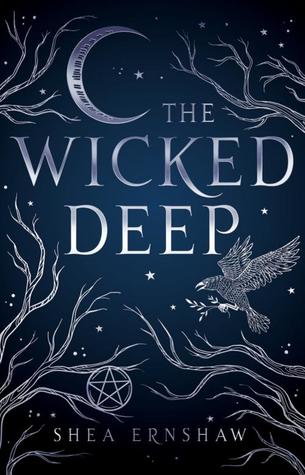 The wicked deep is a story about
three sisters who two centuries ago were sentenced to death for witchery. Stones were tied to their ankles and they were drowned in the deep waters surrounding

Sparrow, a small harbour town in Oregon

. For a brief time each summer, the sisters return. Stealing the bodies of three girls so that they may seek their revenge, luring boys into the harbor and pulling them under.
17 years old Penny Talbot has accepted the fate of the town. But when the sisters' return, a boy named Bo Carter arrives; with a secret on his own and unaware of the danger he has just stumbled into. Mistrust and lies spread quickly through the town. The townspeople turn against one another. Penny and Bo suspect each other of hiding secrets. And death comes swiftly to those who cannot resist the call of the sisters.
I love The wicked deep. It was a fantastic paranormal and fantasy book

.
I found the background story of the three sisters very fascinating.
This
is on of the most
whimsical and unique stories I have read in recent years. I fell hard for the story and I love almost everything about it. I was not quite sure what to expect when I started reading the book. All I knew was that it was a story about witches who was sentenced to death and who returned two centuries later. I love Penny Talbot and her story and I liked Bo Carter - the love interest, and I kind of like all of the Swan sisters: Marguerite, Aurora and Hazel. The sisters had all their reasons to do what they did, so I did not blame them. I felt more sorry for them and their destiny.

The love story leaned more to insta-love.

But I kind of liked it. I really liked Bo. So I think that's one of the reasons I enjoyed the love story.

Usually I'm good at seeing plot twists in the books I'm reading, but this time I did not see it coming.

I expected something else to happen.
I gave the book 4 stars in the end. I love the main plot and the plot twists was epic and wow but something happened that I did not agree
about and the beginning was to slow. So I felt it was not a 5 stars read.
I definitely recommend it,

especially if you like this kind of books.